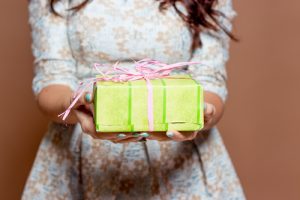 Gift Ideas for New Neighbors
Not much is worse than living next to a neighbor you don't want to socialize with. The typical neighborly gift is food. But many people have food allergies. Get off on the right foot with these gift ideas for new neighbors.
Introduce to Local Places
Your new neighbor may also be new to the community. Gift cards to local restaurants and coupons to local stores should warm them up. Sharing your favorite places in the community, and giving tips on where to shop for the best deals, is a good way to start the conversation on your interests.
Cleaning Supplies
Cleaning is a universal activity for renters and homeowners. Who doesn't need more cleaning supplies? Gift your favorite brands, or create your favorite home-made cleaners, and put them in a ribbon-tied basket. It'll save your new neighbor money and it's a gift they can use. Show how pragmatic you are with a bundle of cleaning supplies.
Plants
Don't overdo this one. Especially don't buy a high-maintenance plant. There's no need to make your neighbor do work they don't have to. But everyone can appreciate cleaner air. And the plant could contribute to decorating the new apartment.
A gift for a new neighbor will show your friendly side. And, who knows, maybe you'll find another person to talk to about Netflix.
The post Gift Ideas for New Neighbors appeared first on Apartments For Us.